Q: I take a lot of digital photos, but I think I'd like to convert some of them into physical prints. What are some good options for printing my photos?
A: With a smartphone in nearly every pocket, it seems as if we are all taking more photos than ever before. Even so, many people don't take the extra step to have prints made of some of their favorite photos—but they really should!
I recall when my son was almost two years old, we went to Disney World, where I snapped a particular image of him. I could see the photo in my mind's eye: he was wearing jean shorts and orange Crocs, and he was standing in front of the big silver ball at Epcot Center. But, for some reason, when I tried to locate the digital version of the memory I thought I had preserved, I simply couldn't find it! Sadly, I looked through gigabytes of data on my carefully backed-up hard drives with no luck.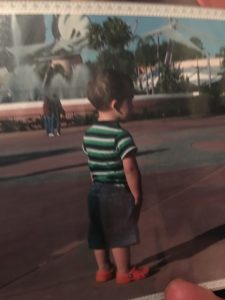 Then, just last week, my wife was browsing through a photo album. She started laughing, brought the album to show me, and opened it to reveal the very photo I had been trying so hard to find. And there stood my son, frozen in time at age two, in his orange crocs at Epcot Center. Turns out I had already had the presence of mind to print it! I have included a photo of that print in this post! As I further explored the photo album that day, I was reminded of just how much fun it can be to turn the pages with my hands and browse through all of the prints that we decided deserve a place of honor in the physical world. Such physical manifestations of captured images are a great way to help you treasure special memories.
That's why it's so important to take time out to have physical prints made. But why stop there? Make a photo album, if you don't already have one. You might even want to send family members actual photos on real photo paper!
I often have prints made at Costco Photo Center (https://www.costcophotocenter.com/Home). If you'd like to reproduce a prized photo as a large wall hanging, Costco will even print on canvas (https://www.costcophotocenter.com/Shop/CanvasPrints).
I also can make my own 4" x 6" prints using a Canon printer which connects wirelessly to my iPhone. There are scores of photo printers(https://www.amazon.com/s/ref=nb_sb_noss_1?url=search-alias%3Daps&field-keywords=4×6+photo+printer+wireless&rh=i%3Aaps%2Ck%3A4x6+photo+printer+wireless) from which to choose, ranging in price from about $90 to $200. Just be sure to weigh the additional cost of ink and photo paper and read through plenty of customer reviews when choosing your own photo printer.
I have also had photo books made via online services such as Shutterfly (https://www.shutterfly.com/), Groovebook (https://www.groovebook.com/), and Blurb (http://www.blurb.com/).
Have your own photography-related question for Doug? Contact him at douglas "@" sandquistphotography.com and your question might be featured in an upcoming issue.