Salute to Trying Something New!
My Daughter was teaching her friend the hand motions to one of her VBS songs this summer. Both were trying something new!
Day 229 of 365
08-17-2013
via Photo a Day-2013 http://www.sandquistphotography.com/Project-365/Photo-a-Day-2013/i-g54pGxm/
I'm always amazed at how quickly kids pick things up that they want to pick up…
Over the past few weeks I've been updating the page that hosts most of my photos over at
Sandquistphotography.com
, that is hosted by
Smugmug.com
. Last week I made a mistake and accidentally deleted a folder that contained most of the photos that are posted on this blog as well. I'm grateful that the Support Heroes at
Smugmug
were able to help me restore my photos without much hassle. Considering I have hundreds of posts with photos linked to that page I'm not sure if I would have ever been able to restore it all. I've heard a few grumbling about the new changes over at Smugmug, I love all the changes even with my troubles this past week!
Also, over the weekend my daughter wanted Fresh Peach and Strawberry Scones that were both Gluten Free and Dairy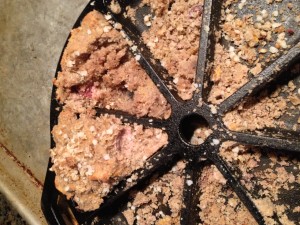 Free. I have the flavor down these are delicious, but I was unable to get them out of the cast iron scone pan without the falling apart! So we picked chunks out of the pan and enjoyed. I have notes of the recipe and I think I'll be tinkering with it some more. I think I got messed with up with the fresh fruit liquid content. I also may need to add some more oil/fat and maybe another Egg or two… I'll try to test this again before the Peaches and Strawberries go away for the season!
A salute to those trying something new this coming week!