So I've been working on a chocolate chip recipe without xanthum gum or starchy flours. I think i've come up with a winner…. These are great! Here's a link to a starchy egg filled gluten free cookie recipe that I used as a guide to make these. These have Almond Flour and Coconut Flour instead of the starchy flours. I usually use almond flour from Bob's Red Mill or Nuts.com. But I ran out so I decided to try and make my own almond flour using raw almonds in my Blendtec blender. I was pleased with the results. It is a bit tricky not turning them into Almond butter though! I found I had to pulse and let it rest and then add more almonds to help keep it grinding it up. I think I'll not pay for expensive ground Almond flour and just make my own from now on. One day I'll make a post about making almond flour with the Blendtec blender!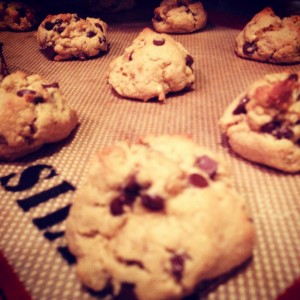 1 cup Almond Flour
1 cup Coconut Flour
1 tsp baking soda
1/2 tsp Sea Salt
1 Cup Organic Light Brown sugar
1 Cup Organic Spectrum Vegetable shortening
2 tsp Vanilla
2 "Chia Eggs" 2 tablespoons of ground chia seeds in 6 tablespoons of Almond Milk(Can also use 2 large Free Range Organic Eggs for a non-vegan version)
1/2 cup Vegan Chocolate chips or as many as you wish!
Preheat oven to 350F. Grind enough Chia seeds in a coffee grinder to make two level tablespoons. Add the chia grounds in a small bowl with 6 tablespoons of Almond milk and set aside.
In a large bowl combine Brown Sugar, Shortening, and Vanilla, and Chia or Regular Eggs and mix. I used a hand mixer but a stand mixer will work as well. Add the dry ingredients to the wet ingredients and combine. Add the Chocolate Chips and mix those in by hand.
Place balls of dough onto a greased or lined cookie sheet and bake for 8-9 minutes or until the tops just turn toasty brown.
Lastly enjoy!
A couple of notes: I have made this with only Almond Flour if you don't want to use the Coconut flour. I have not tried it with just Coconut flour.