Who doesn't love the Ice Bubbles on Abraham Lake in Alberta Canada?
Browse my Full Canadian Winter Landscape Gallery on my brand new print store!
I don't remember the first time I saw a photo of the methane bubbles on Abraham Lake, but I remember finding them so interesting that I had to make a plan to go visit them one day! Abraham Lake is in the Canadian Rockies about 3 hours northwest of Calgary, in between Jasper and Banff… Here are the first two images.
I enjoyed watching the sun dance across the peaks of the Candian Rockies, the bubbles make for an interesting visual element.
The clouds around the mountain peaks also caused addition visual interest to the frozen bubble filled lake.
Thanks for reading down this far!
Prints are available on my photo hosting site Sandquistphotography.com and on the Sandquistphotography Society6 Store
It was a challenge to shoot the frozen bubbles. In order to make the bubbles appear as a strong foreground element you need to get as low and close to them as possible! This often meant laying belly down on the sheet of ice! Here's a photo of me on the frozen lake.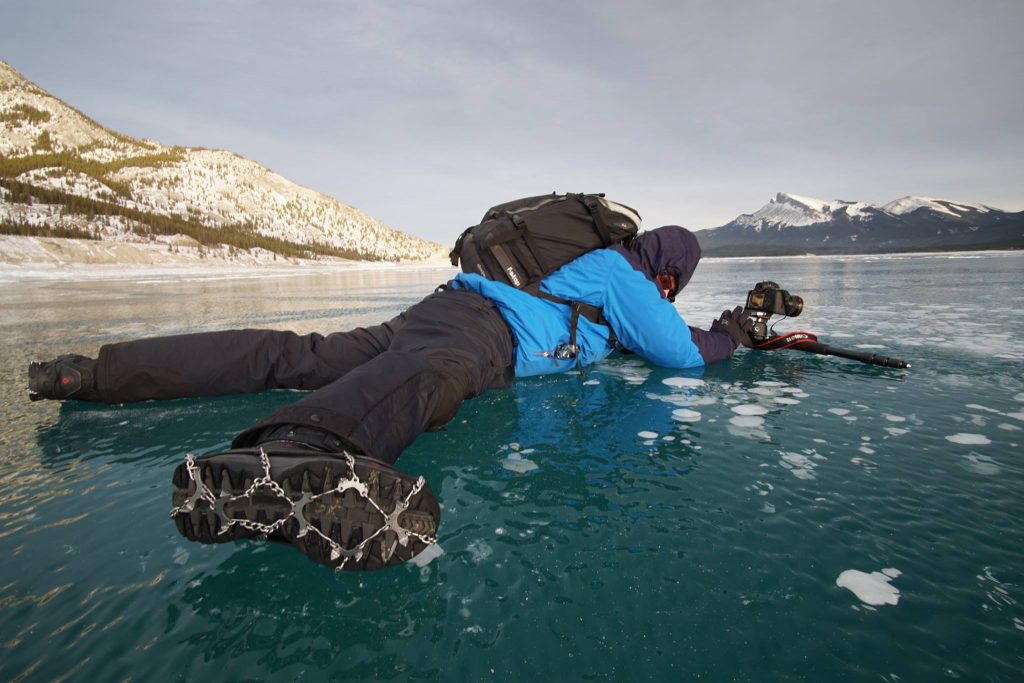 I do recommend these MICROSpikes from Kahtoola(Amazon link) for working on the ice. They provide good traction and are easy to put on and take off when all bundled up!