For Spring Break we decided to head to the beaches of Santa Barbara. My wife discovered a bakery in West Los Angeles called Fonuts that sells Gluten Free and Vegan donuts. This discovery meant one thing, we had to alter our travel plans to find this place and pick up some donuts! For those not acquainted with being gluten free and dairy free this is a big deal. I do a pretty good making treats at home but there is something about heading to a bakery and picking up tasty treats to enjoy! My wife is one that really misses the bakery experience.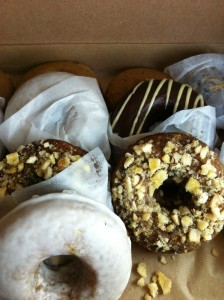 Comparing these donuts to Krispy Kremes is a mistake. They are quite moist and fairly dense. I loved them, in small bites.  I think we'll be making other trips to Fonuts in the future!
While at the bakery I wondered how far away LACMA was. I had wanted to go check out Levitated Mass by Michael Heizer. A quick glance at my iPhone revealed that we were 2 blocks away, so back in the car with our package of Fonuts, it was on to LACMA.
Levitated Mass is a sculpture of a huge rock that came from a quarry in Riverside County, about 60 miles or so from LACMA. It's the rock that took months to reach it's final location. It's an interesting piece of art. You can walk underneath the rock, you can get close to it and see if from all side but the top. The kids had a good time stretching their legs. If you're in the area and didn't have to pay for parking it's completely free to check out Levitated Mass. I did park at the Museum so I paid the $10 for parking. If my kids were a bit older I probably would have paid to go check out a few other galleries, but figured my 4 and 8 year old had had enough with the big rock and they wanted to get to the beach!  Here are some photos I took of Levitated Mass: