A few days ago I made some Lemon Scones that are gluten free and dairy free. Of course my lovely wife wanted some chocolate chip scones that were also gluten free and dairy free! So I did!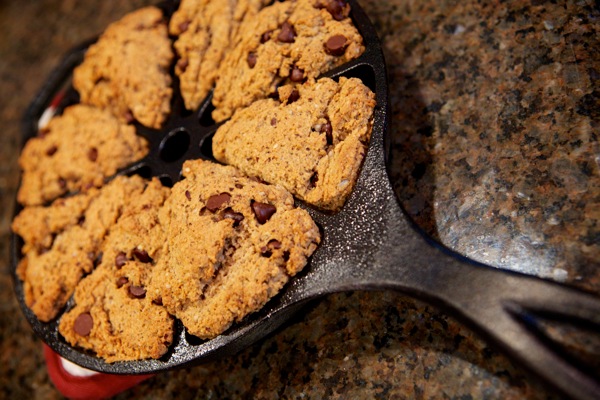 1 Cup Sorghum Flour
1/2 Cup Coconut Flour
1/2 Cup Hazelnut Flour
1tsp Baking Soda
2 tsp Baking Powder
1 tsp Xanthum Gum
3/4 tsp Fine Sea Salt
1/4 Olive Oil
1/2 Brown Sugar
2 Farm Fresh Eggs
1/2 Organic Almond Milk
1/2 Cup Vegan Chocolate Chips or more if you choose! More chocolate is always a good thing.
Preheat oven to 400F. Preheat the lightly oiled Cast Iron Scone pan in the warming oven.
Place all dry ingredients into a large bowl and whisk together. Add the wet ingredients and combine, I always add the chips last. It will be a sticky batter.
Scoop the batter into each of the 8 compartments in the cast iron pan. I find that if I separate the batter into 8 sections then place each piece in the pan I get better proportions. Place the pan in the center of the oven and bake for approximately 15 minutes. With the pan preheated when the tops turn golden brown the scones are done and cooked all the way through. With other pans I've had to almost burn the tops to get the middles baked.
These are quick and easy and delicious!