This is the inside looking up at the ceiling of the Lutheran Church in Reykjavik, Iceland. I took this with the Fisheye Olloclip on the iPhone 5S It's a bit grainy but cool in that you can see the large pipe organ and the front of the church in one photo!
07-01-2014
I purchased the Olloclip on a whim from a Kiosk at the airport before my departure. (I went to the kiosk to buy some headphones as I always lose the pair I bought on a previous trip right before I head out on my next trip.) I saw the Ollocilp in the kiosk and remember seeing a few posts from my networks about it and decided to go for it! I'm glad I did. It turned out to be a fun add-on!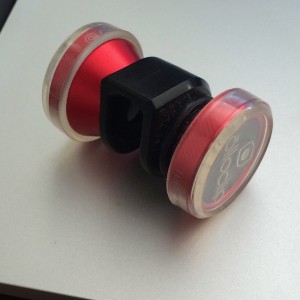 One fairly big caveat, the Olloclip fits very snug to the iPhone 5S and won't fit over a case. Either the case needs to be pulled back from that section near the camera or removed all the way. I had to remove the case all together. Another smaller caveat is that there is no way that I could figure out to use the Olloclip on the forward facing camera, so taking a fisheye selfie can't be achieved easily. It only works with the  camera on the back of the iPhone.
The Olloclip comes with 4 different lens adapters in one clip. A Fisheye, a Wide Angle, a 10x Macro and a 15x Macro. The Fisheye and the Wide angle are easily used, the Macro's require you to unscrew either the Fisheye or Wide Angle(the red tubes will unscrew and leave the Macro lenses below).
Here are a few more sample images from the Olloclip!
Overall I'm a fan of the Olloclip enough that I've started to carry it in my pocket on occasion for some fun captures out and about with my family! If you have an iPhone I'd definitely pick one up! If you purchase using this amazon link I will earn a few shekels…. Thanks!