Banana Chocolate Chip Gluten Free Dairy Free Bread
My Version of Banana Chocolate Chip Bread thats gluten free and dairy free!
I have been gluten free for almost 4 years, dairy free for almost 2 years. My wife has been gluten free and dairy free for 3 years and recently after dealing with some nagging medical issues with our two kids we decided to remove gluten and dairy from their diets as well. So we are a full gluten free house at this moment. One of my son's treats over the years was a piece of Banana Chocolate Chip Bread from Starbucks which of course is not gluten free. So I decided to start tinkering with a gluten free/dairy free (GF/CF) recipe that would work as a nice treat.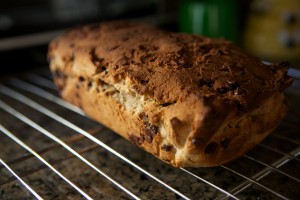 Here's my recipe:
1 cup sorghum flour(I want to try this with Almond Meal to lose the grains)
1 cup coconut Flour
1/2 cup cane sugar(also want to try this without the sugar)
1 tsp baking powder
3/4 tsp sea salt
1 tsp cinnamon
1 tsp xanthum gum
3 large ripe bananas
2 farm fresh eggs
2 tsp vanilla
1/3 cup olive oil
4 TBS almond milk
3/4 cup vegan mini chocolate chips
Preheat oven to 350F. Combine dry ingredients in a bowl and set aside. A 2 eggs to another bowl and beat the eggs, add 3 ripe bananas to the eggs and mash the bananas and eggs together. Add vanilla and olive oil. Once all the wet ingredients are mixed together, slowly add the dry ingredients to the wet ingredients. My mixture was dry after combining the wet and dry ingredients so I added 2 Tbs of Almond milk and stirred and needed to add 2 more Tbs of Almond milk. Then add the vegan chips and combine. I then added the mixture to a parchment lined Ceramic Baking dish and placed in the oven for 60 minutes.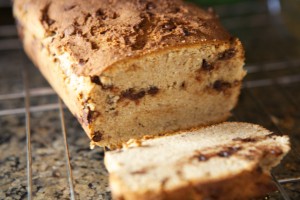 Allow the bread to cool on a wire rack out of the pan before trying to slice it. I used a serrated knife cut the loaf into slices and then placed in separate plastic bags and refrigerated half and and placed the other half in the freezer for later.
My son took a piece to school for lunch and loved it. So far its been a hit in our household…